Established in 1972 by a group of physicians and 30 nurses, Bangkok Hospital was among the pioneers of private healthcare in Thailand and the region. In the ensuing 40 years, the institution has proceeded to build its reputation as one of the country's most trusted tertiary care facilities, with specialised units and hospitals, staffed by leading experts.
Today, Bangkok Hospitals offer the full spectrum of medical care, from diagnosis and health check, to treatment, to rehabilitation and after-care, with processes certified by the Joint Commission International. The hospital's mission, as stated on their website, is "We are committed to being the leader in providing internationally accepted, efficient and ethical high quality care through a dedicated healthcare team, effective leadership and up to date technology."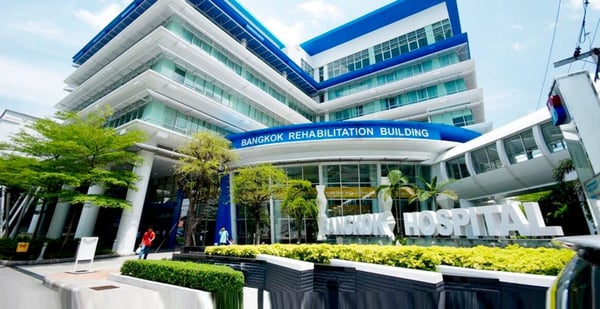 Image Courtesy of Bangkok Dusit Medical Services (BDMS)
Part of Bangkok Dusit Medical Services (BDMS), Thailand's largest private healthcare group, Bangkok Hospitals all over the country feature centres of excellence accredited by the group. The original organisation has grown to become Thailand's largest hospital groups, with 40 locations throughout Thailand, including:
Bangkok Hospital Chiang Mai
Located just east of the city centre, Bangkok Hospital Chiang Mai features comfortable in-patient accommodation in fully-equipped private rooms. Clinics include orthopedic, ENT, skin and pediatric and their centres of excellence are heart, emergency, neuroscience and oncology.
Bangkok Hospital Pattaya
Founded in 1990 in the popular seaside and tourist destination, the hospital has grown into a 300-bed facility with specialist centres for Brain and Neuroscience, Emergency Medical Services, Beauty, Dermatology and Cosmetic Surgery, Minimally Invasive Spine Surgery and a fully equipped heart centre, which leads the region in terms of expertise and technology.
Bangkok Hospital Hua Hin
Located on the main street of Thailand's royal seaside resort, Bangkok Hospital Hua Hin is popular among locals and tourists. With emergency services and a range of room choices, the hospital caters for the community and boasts a number of centres of excellence including brain, bone,ENT, heart and chest.
Bangkok Hospital Phuket
Just north of Phuket town on the eastern side of the island, Bangkok Hospital Phuket is recognised as a leading health destination by locals and visitors. The facility offers tertiary care in a range of specialities including Cardiology, Orthopaedics, Ophthalmology, Oncology, Gynecology/Obstetrics and Colorectal Disease.
Bangkok Hospital Samui
Founded in 2004 and located in the island's busy northeastern district of Chaweng, not far from the international airport, the 60-bed hospital services the island's locals, expats and visitors. Where necessary, the facility works with medevac teams from neighbouring Koh Phangan as well as Bangkok to ensure patients are safely moved to a facility where they can best be treated. As well as 24-hour emergency services, the hospital features specialist clinics in a range of areas including neurosurgery, plastic surgery, orthopaedics, physiotherapy, cardiology and dermatology.
Bangkok Hospital Bangkok
The original and largest location, conveniently located in the centre of the capital, Bangkok Hospital boasts a team of experts, cutting-edge technology and a number of centres of excellence including heart, cancer, bone and joint, brain, trauma and dental. They also serve the community with an impressive mental health unit, which caters for in- and outpatients with a range of psychological and psychiatric services as well as music and occupational therapies. In addition, they provide world-class accommodation and amenities including visa services, limousines and shuttle buses to ensure all patients have a comfortable and convenient experience.
To find out more about Bangkok Hospitals and their specialist services, visit www.bangkokhospital.com. To explore your options for healthcare insurance in Bangkok, get in touch with one of the experts at Luma.
And If you are interested to learn more about hospitals in Thailand, check out our complete guide to hospital in Thailand