Among Bangkok's many hospitals, one group has continued to grow and establish its reputation among the Thai and international community in the region.
Samitivej Hospital was founded in 1979 by former Kasikornbank chairman Bancha Lamsam and M. R. Bajarisan Jumbala, M.D. The original hospital stands on its current site on Sukhumvit Soi 49 and was given its name by former Prime Minister of Thailand, M.R. Kukrit Pramoj. Samitivej means "assembly of doctors", and the founders were inspired to bring together the finest medical practitioners available, to provide the best healthcare, not only physically but their doctors also have a very clear focus on empathy.
Samitivej was built on a philosophy of holistic and preventative care. Today, their ethos is that the less they see their patients, the better job they are doing.
With its dedication to healthcare, Samitivej is the recipient of a number of awards, including recognition by the WHO and Unicef as a Mother and Baby-Friendly Hospital in 1999. In 2018, the hospital received Thailand Corporate Excellence Award from HRH Princess Maha Chakri Sirindhorn, as well as accreditation by the Joint Commission International (JCI). Moreover, in order to further enhance their medical excellence they have partnered with overseas hospitals who are leaders in their own fields.
For instance, Samitivej's gastroenterologists receive training from their counterparts at Sano Hospital for Liver and GI, a world leader in diseases of the GI tract and the classification of the epithelial tissue. The partnership has helped refine their team's knowledge and treatment to become one of the best GI teams in Thailand. Consequently Samitivej now has a high Adenoma Detection Rate (ADR) for colon cancer. Over the past 5 years the group has made continuous improvement and now exceed the international benchmark (25%) with a 90% detection rate, making it the highest in Thailand.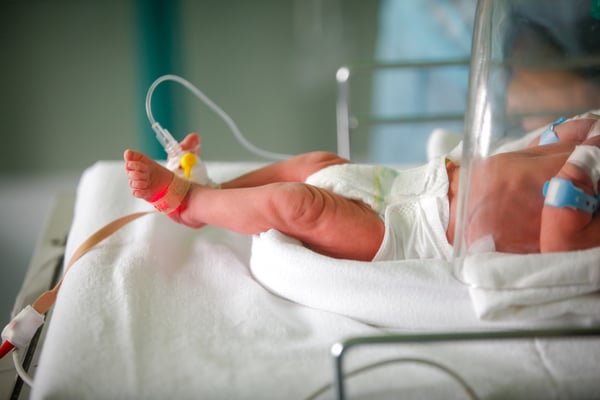 For cases in the field of neonatology and premature birth, Samitivej partner with Takatsuki General Hospital, also in Japan, who delivered and kept alive a baby born at a mere 286g. With a specialised program in High Risk Pregnancies, Samitivej experience a high number of premature deliveries and since collaborating with Takatsuki have managed to save a baby born at 500g. Furthermore, they are the first hospital in Thailand to provide Neonatal and Paediatric Critical Care Transportation.
---
The Samitivej Group
Since 1979, Samitivej has grown to a group of seven hospitals around Thailand:
Sukhumvit Hospital
The 275-bed flagship hospital is located on Sukhumvit Soi 49. With 400 specialists and cutting-edge technology, it's recognised as one of the finest private tertiary hospitals in Bangkok. Besides the multilingual care offered to locals and visitors to Thailand, the hospital houses the Japanese Medical Center, offering dedicated services for Japanese patients.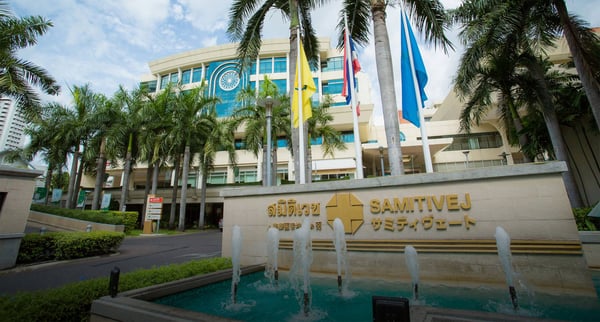 Image Credit: Samitivej Group
Srinakarin Hospital
Located in eastern Bangkok, conveniently near to Suvarnabhumi International Airport, this 400-bed hospital is run by a team of 500 and provides expert care for international and local patients.
Samitivej Children's Hospital
With a branch in both Samitivej Sukhumvit and Samitivej Srinakarin, the Children's Hospital provides top pediatric care for Bangkok. Both branches are fully equipped with Neonatal and Pediatric Intensive Care units and the surgical department specialises in procedures for the brain, urinary tract and heart.
Chinatown Hospital
This 31-bed hospital is located near Bangkok's busy Yaowarat Road, popular among tourists and locals. With a leading accident and emergency department, the hospital is also a leader in the fields of eye care and physical therapy.
Thonburi Hospital
With 150 beds, this hospital is located in western Bangkok and provides specialised care in its Breast, Allergy and Orthopedic Centers, as well as at its onsite Eye and Lasik Center.
Sriracha Hospital
Located conveniently near to popular holiday destination Pattaya, Samitivej Sriracha provides leading care for tourists and locals in the Laem Chabang area on the eastern Gulf coast. The 184-bed hospital also offers a dedicated Japanese section.
Chonburi Hospital
With an inpatient department of 79 beds as well as an intensive care unit, accident and emergency department and separate outpatient clinic, this hospital serves the community in the popular Chonburi area, also on the eastern gulf coast.
---
For patients further afield, Samitivej has two clinics in Yangon, Myanmar as well as an online portal, Samitivej Virtual Hospital, which provides medical consultations on the web and via applications.
Samitivej is a member of Bangkok Dusit Medical Services (BDMS), a network of healthcare providers committed to cutting-edge, world-class care. Within that network, BDMS designates "Centers of Excellence", recognised for global standards across four criteria: patient care, academic research and publication and affiliation. Samitivej Hospitals' Centers of Excellence include their Liver & GI and Trauma departments at Samitivej Sukhumvit and in Trauma and Pediatrics at Samitivej Srinakarin.
To find out more about Samitivej Hospitals and their superlative care, visit www.samitivejhospitals.com.
To explore your options for healthcare insurance in Thailand, get in touch with one of the experts at Luma. Luma Members can enjoy direct billing at all Samitivej Hospitals.
And If you are interested to learn more about hospital in Thailand, You can also check our guide to hospital in Thailand.