With COVID-19 vaccines becoming accessible in Thailand, more companies are planning to provide vaccination for their workforce. One may think that employers are pushing their employees to be vaccinated so they can physically return to work. But what happens if some of your employees do not want to get vaccinated?
"We're not pushing our employees to receive the COVID-19 vaccine even if it becomes available to them", says Dr. Gerard Lalande, Chief Medical Officer. There is no golden rule in getting the vaccination for your employees. Companies need to listen to their employees about any concerns they may have regarding COVID-19, the vaccine, and side effects.
However, we wanted to give an option to all our employees to get vaccinated when they become available to them, only if they want to. According to Vic Vacharasinthu, Luma's Chief Customer Officer, "most of our colleagues are eager to get back to the office, and the vaccine is really important in giving that peace of mind and making this partially possible".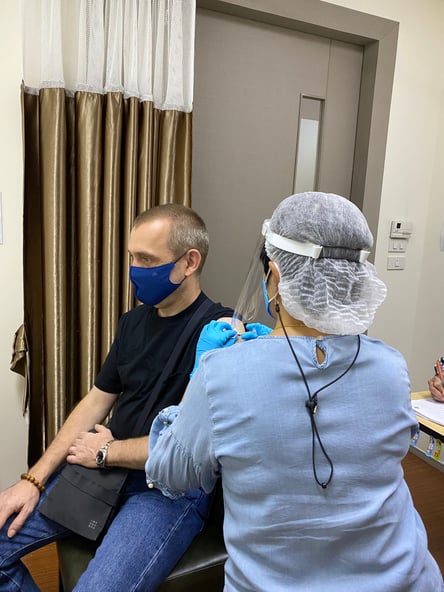 Christopher Dennis, CEO getting Covid-19 Vaccine jab in Bangkok.
To make this possible, here is how Luma planned the vaccination process for our employees:
Internal questionnaires sent from HR to know who is willing to receive the vaccine. Employees are fully aware that receiving the vaccine from a preferred brand is not guaranteed.


Actively researching which hospital could provide the shots, eligibility, brands, and timeline.


Easy admin for employees to have their shots during office hours (i.e. no annual leave required), and with high acceptance and flexibility for short notice appointments.


What we're bringing on top at Luma: In-house expat doctor ready and waiting; Dr. Gerard has an open door communication policy for our teams.
When executing these plans, "there has been some confusion surrounding the vaccine roll-out in Thailand, and we have had questions from members and corporate customers on how to organize vaccines", says Christopher Dennis, CEO. At Luma, a "COVID Taskforce" was set up with company leaders and our medical network manager to monitor vaccination booking slots. "Thanks to our wonderful teams, especially our medical network manager, we were lucky to have quick access to hospitals offering the vaccine. However, I think any company could do the same by assigning one or more team members to monitor the situation and keep close contact with hospitals. We have also been assisting some of our corporate clients to get access to the vaccine for their staff, upon request" explains Vic Vacharasinthu.
Like many companies in Thailand, Luma boasts a multicultural workforce, which can make the process a little tricky. Each nationality tends to refer to their home country's guidelines that may be different from Thailand's. Some employees proactively check to book vaccinations themselves, and some employees wait to go back to their home country and take shots there. According to Nasreen Sangwiman, the Hospital Network Manager, "there were no clear registration guidelines for expats, and hospitals were taking different actions when we started to register our teams for vaccination. It would depend on each hospital and how they implement government decisions. Most hospitals offering booking for expats would do on an individual basis only but we found one that could arrange group bookings".
There is of course no discrimination against people who were infected with COVID-19 in the past, and/or people who chose not to receive the vaccine. It all comes down to the workplace culture and the people contributing to a positive workplace environment. If the company as a whole is tolerant, accepting, and embracing communication in the first place, there should be no problem. "We're not pushing anybody to come to the office. People are coming voluntarily and in accordance with proper physical distancing", confirms Frederique Saurat, Chief Admin Officer at Luma. For those coming to the office, strict protective measures have been instilled to maintain safe working conditions:
Reduced office sitting capacity to ensure social distancing at the office
Masks on at all time
No food in the office
Disposable masks and hand sanitizer at disposal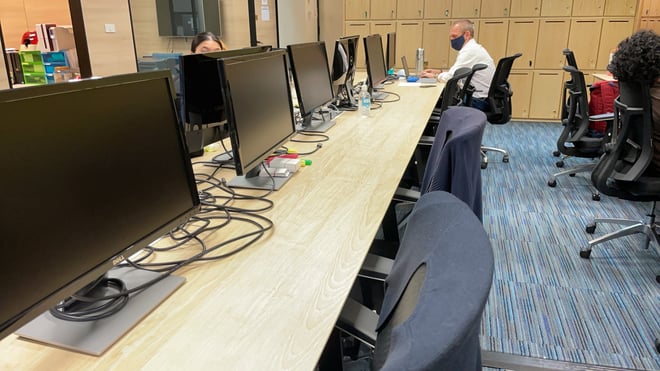 Social distancing seating while working from Luma HQ in Bangkok.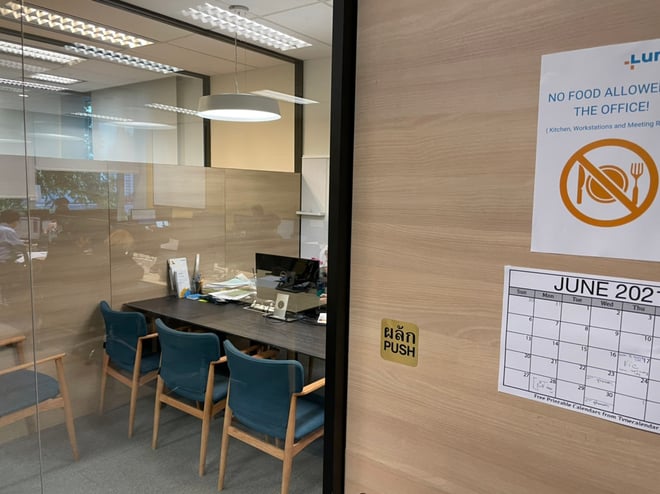 Online meetings are prioritized over face to face meetings as much as possible, and cleaning is ensured between each meeting room usage. No foods allowed in the office so masks remain on faces.
Now that employees start to receive vaccines, the HR team, in-house medical team, and management team are working closely to monitor who may experience Covid-19 Vaccine side effects, which could lead to a drop in performance or taking sick leaves.
In the midst of the pandemic, we offer our word of advice: stay optimistic. "Fortunately, it now seems that the situation is improving with vaccines being distributed. The situation will improve further once additional vaccines become available later in the year. We are monitoring the situation closely together with our hospital partners and are ready to provide, advise, and support our members", ensures Christopher Dennis. Luma is staying optimistic and fully committed to achieving brighter health for our employees and members.