Ever wondered how much it costs to have a baby?
Here's a quick look at the costs in Thailand's leading hospitals as well as tips on how to save costs.
How much does it cost to have a baby in Thailand?
When it comes to having a baby, each mother's childbirth experience will be different. Some women will have either a planned or emergency cesarean section (also known as a C-section), which is a surgical procedure to deliver a baby by cutting through the mother's abdomen wall. Others will undergo a normal, natural birth. As such, each of these procedures has a different cost. Here's the price range of the amount you can expect to pay, from data provided by four of our partner hospitals.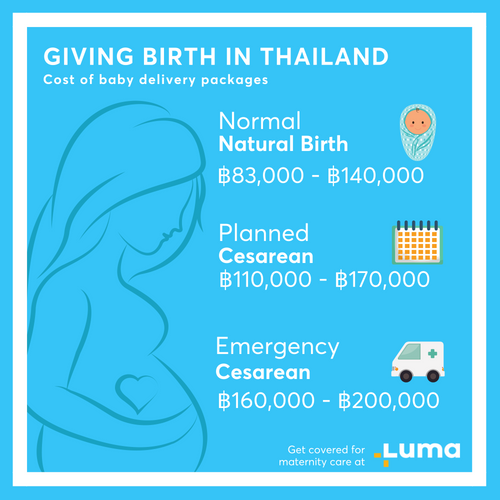 How mothers-to-be can pay less for their pregnancy
Whether you're expecting, or simply dreaming of your baby-to-be in a few years, there are few ways you can minimize your hospital expenses. Here are three ideas to consider.
Compare hospitals and physicians
As you'll notice from the range of costs above, maternity expenses will vary from hospital to hospital. With that said, it's worth choosing a trusted gynecologist you have confidence in, even if the cost is higher. Doing so can imbue you with a sense of calm and comfort.
Get an insurance package that covers pregnancy

At LUMA, we believe mothers-to-be should focus on the joy of pregnancy—and not have to worry about money. That's why we offer a health insurance package that covers your maternity costs when you sign up with us 10 months before your due date.
Want to learn more? Contact us today to hear about our health insurance plans for soon-to-be moms as well as children health insurance solutions.