At this time of self-quarantine, many people have stocked up on foods. Even people who work from home have to eat, and restaurants are closed — other than for takeaway orders and delivery — so home cooking is simply necessary. Home cooking is more than just feeding yourself, but it can be for comfort and fun, too. If you are living with family members, meal preparation is another way to strengthen family relationships. You may have stocked up on these groceries so here are four dishes that can be made with them.
Sardine Toasts with Tomato and Sweet Onion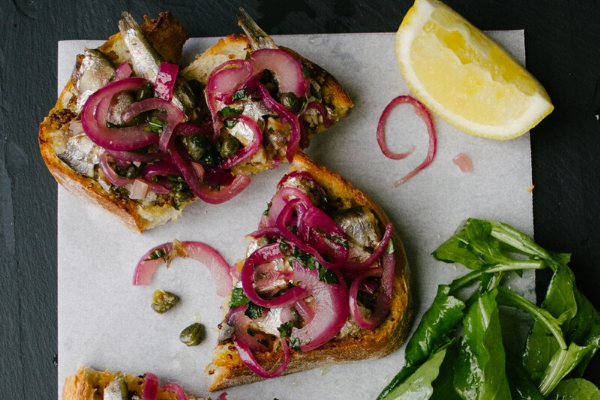 Canned food lovers may think of this dish before other recipes. It is a classic meal that can be easily prepared when you are starving.
Ingredients:

Thick slices of crusty sourdough bread, garlic, butter, tomato, canned sardines, sliced red onion, olive oil, fresh lemon, black pepper, and basil leaves

Preparation:
Toast both sides of the bread

While the toast is still warm, rub the top of each piece with garlic and spread with butter.

Top butter with sliced tomatoes and lightly salt them
Top tomatoes with sardines and then sliced onion.

Drizzle with olive oil and lemon juice. Season them with more salt and pepper.

Put basil leaves on top and serve right away.


Chicken Noodle Soup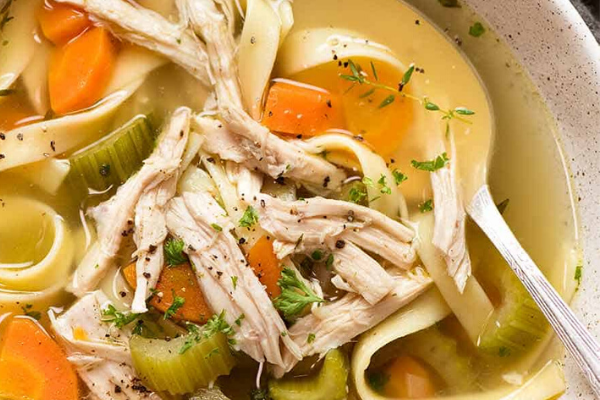 At this time of crisis, you do not need rotisserie chicken to prepare chicken noodle soup. Just fresh chicken from the supermarket will suffice. To make a deeply complex base, sauté the chicken in olive oil with garlic, coriander and celery seeds. It is much nicer if you add fennel seeds, rosemary and some herbs.
Ingredients:
Olive oil, ground chicken, salt, black pepper, garlic, ground coriander, celery seeds, 1/2 -inch carrot cubes, celery stalks, chopped shallot, fresh thyme leaves, dried-egg noodles, and chopped fresh parsley
Preparation:
In a large pot, warm the olive oil over medium-high heat. Add the chicken. Season it with pepper and salt and cook for 3 minutes.

Add the garlic, coriander and celery seeds in the pot, and then cook and stir frequently for about 2 minutes until the chicken is cooked.

Remove the chicken from the pot and set aside.

Add the carrot, celery, shallot, thyme and 2 tablespoons of oil in the pot. Season it with salt and pepper for 3 minutes until it is slicked with fat.

Add 7 cups of stock for a stew-like soup and bring to a boil.

Add noodles and cook over medium-high heat. Add some more chicken as you like and any accumulated juices and heat until warm. Season it according to taste with salt and pepper.
Spaghetti with Fried Eggs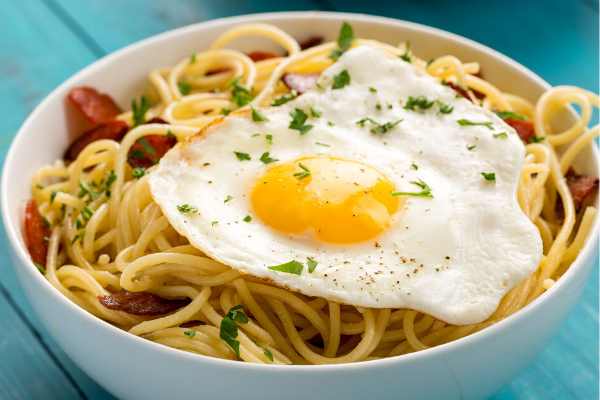 When working at home, spaghetti with fried eggs is another recommended recipe you can do when time is limited and there is less food in the house. You only need a box of spaghetti, four eggs, olive oil, and garlic.
Ingredients:
Spaghetti, olive oil, garlic, eggs, and black pepper
Preparation:
Boil water in a large pot. Add salt when water is at a rolling boil. Add the pasta and cook until al dente.

Cook 2 cloves of sliced garlic and 4 tablespoons oil in a small skillet over medium-low heat; press it into the oil occasionally to release its flavor.

Fry the eggs in the oil.

Drain the pasta, and toss with the eggs and oil, breaking up the whites as you do. Season to taste and serve immediately.
Midnight Pasta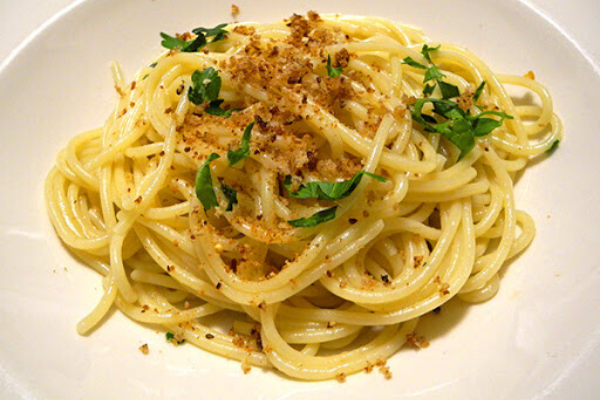 Good spaghetti, healthy olive oil, fresh garlic and a little red pepper can make a fantastic pasta. Midnight Pasta is another recommended recipe that you do quickly at home.
Ingredients:

Spaghetti, salt, olive oil, garlic, anchovy fillets, capers, red pepper flakes, and parsley
Preparation:
Put the spaghetti in a large pot of well-salted boiling water and cook it until it is still firm to the bite. It may take 8-10 minutes depending on the brand of pasta.

Warm the olive oil in a small skillet over medium heat. Add garlic and cook for 1 minute without letting it brown.

Stir in the anchovy fillets, capers, and red pepper. Cook it for 30 seconds and turn the heat off.
Drain the pasta and return it to the pot. Pour in the garlic mixture. Add the parsley and toss it well. Serve immediately while it is still hot.
Cooking at home does not require a strong knowledge of gourmet. At this time of self-quarantine and work from home, you can alter the ingredients based on what are available at your nearby stores or what you have stocked up on. It does not have to be exactly in the recipe.
During this crisis, make sure you take this opportunity to comfort your family members; keep everyone fed, satisfied and healthy. And if you ever need health insurance for an unlikely case, fill in the form below to get a quote.